CD & Media Storage
Media Duplication Services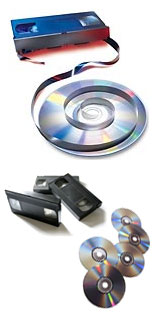 CDs can be duplicated from:
Original CD
Customer file
DVDs can be duplicated:
From original DVDs
From electronic files
Transferred from VHS and other formats
All duplications are an exact copy of the original. A copyright clearance from the rights holder must accompany all duplication requests for copyrighted materials.
Duplication services include direct-to-disk printing, plastic cases and printed paper sleeves.