Blueprint Scanning and Duplicating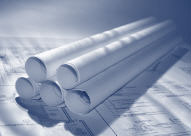 Production Services can scan architectural blueprints; sketches; preliminary planning drawings and any other type of graphic representation produced relating to buildings and systems. Once scanned we can produce high quality prints or we can save the blueprints and/or drawings to CD or other electronic media. We can also produce prints from your electronic files or we can retrieve the images from an FTP site for duplication.
D-Prints
D/Prints are the first true digital printing system specifically designed with the computer-based architect and engineer in mind. D/Prints are printed directly from most computer file formats to a variety of stocks including vellum, mylar, or bond. Hand-drawn originals and existing blueprints can be scanned for high quality D/Prints duplicating.