Stationery
University Stationery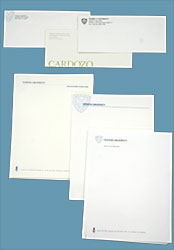 Production Services produces a variety of University stationery items including letterhead, envelopes, buck slips, memo pads and mailing labels. Letterhead is customarily 8-1/2 X 11. The standard size envelope is #10, however a variety of other sizes may be ordered to meet your University department's needs. See our Envelope Sizes page for information on our different envelope types and sizes. Letterhead and envelopes are printed in multiples of 500 on 24 lb. Strathmore 25% cotton fiber content paper using one or two color inks.
Economy Stationery
For mass mailings, Production Services can print the letterhead and envelopes using a 24 lb. Bright White paper with 25% cotton fiber content providing the look and feel of fine stationery at approximately half the cost. If you are doing a mass mailing and want to save money, choose economy stationery.
Contact Production Services for more information.