Printing Services
Quick Copying Services
When your print project does not need any of the advantages of our digital publishing systems, Production Services' Quick Copy Center is here to help. We will quickly produce your letter and/or legal-sized copies.
Color Copying
Production Services offers full-color copying from hard copy originals or from your electronic files. A variety of paper stocks including white, gloss, and card stocks are available.
Digital Printing
Our digital publishing systems capture text, line art, and photographs by scanning and converting them to digital masters, producing professional finished documents at amazing speeds, and at near offset quality, 600 dpi resolution, in black ink or full color. The digital system is excellent for booklets, reports, invitations and flyers. Production Services can also integrate your document with databases you provide. Variable data printing, or print personalization is an increasingly useful method for targeting a specific audience.
Wide-Format Printing
Production Services offers high quality wide-format printing (i.e. posters and banners). Our wide-format printers produce brilliant colors on a variety of materials. Posters and banners are available up to 60" wide by 100'. We also provide laminating, mounting, and framing.
Bindery and Finishing
Our bindery department is equipped to handle virtually anything you require with collating, cutting, folding, Veloâ"¢-type or plastic ring binding, report covers, paper drilling/hole punching, padding presses, perforators, scoring, and booklet making. To ensure the highest quality and best results for your printing projects, our bindery team will trim, fold, cut or bind your job to give it a professional, finished appearance.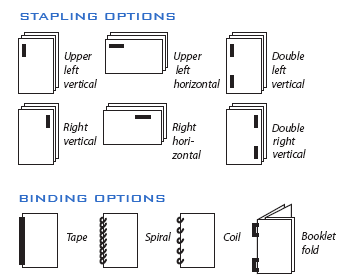 Layout Assistance
Publications requiring significant design, particularly those intended for off-campus distribution and especially those designed to recruit students, fundraising or otherwise promote the University, will be referred to the Office of Communications and Public Affairs.
Basic design, layout and document production assistance are available through Production Services. Most files submitted for reproduction, both offset and digital, require some pre-press work to optimize their appearance. This can be as simple as preflight to verify links to pictures and fonts within your electronic files, to more complex adjustments, such as creating bleeds and/or tints, or adjusting page size of the original document to match the desired final page size.
If you need assistance with document preparation, give us a call. We're here to help you achieve the best possible results.