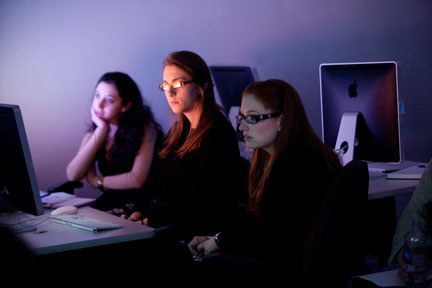 At Yeshiva University, students can enroll in the psychology program at Yeshiva College or Stern College for Women, leading to a BA degree. With a strong foundation from which to start, many choose to continue their study toward a master's or doctoral degree. YU's Ferkauf Graduate School of Psychology is a leader in the field, offering MA, PsyD (clinical psychology or school-clinical child psychology) and PhD degree programs.
Yeshiva College and Stern College for Women
Psychology majors at Yeshiva College and Stern College for Women are immersed in research. Not only are students exposed through their courses to the major subfields of psychology, such as biological, clinical, cognitive, developmental, experimental and social, but they also gain hands-on experience conducting and analyzing original research under faculty guidance. Such research experience is important for a variety of future endeavors, including graduate study. Outside the classroom, students engage in cutting-edge research at institutions including YU's Albert Einstein College of Medicine, through such initiatives as the Summer Undergraduate Research Program.
The undergraduate education our students receive provides a solid foundation for graduate study in a wide range of specialties both within and outside the field of psychology. While many students enroll in master's programs in psychology, others seek a master's degree in disciplines such as social work, occupational therapy and education. To this end, our students enjoy a number of specialized programs such as the combined BA/MS program in occupational therapy with Columbia University (Stern College for Women only).
Students have been admitted to medical schools at institutions such as Harvard and Mt. Sinai. Many enroll in doctoral programs in clinical, school, developmental, cognitive, and health psychology at various institutions around the country, including YU's Ferkauf Graduate School of Psychology.
Ferkauf Graduate School of Psychology
Ferkauf's nationally recognized programs prepare doctoral-level psychologists and master's-level counselors for successful and rewarding careers by providing extensive coursework, practicum and externship experiences and research opportunities. Ferkauf occupies a prominent position among its peers, providing top-level academic and field preparation for a group of strong students. The school offers the following:
Students can also receive on-site clinical training opportunities and practicum experiences through the Ferkauf Parnes Clinic.