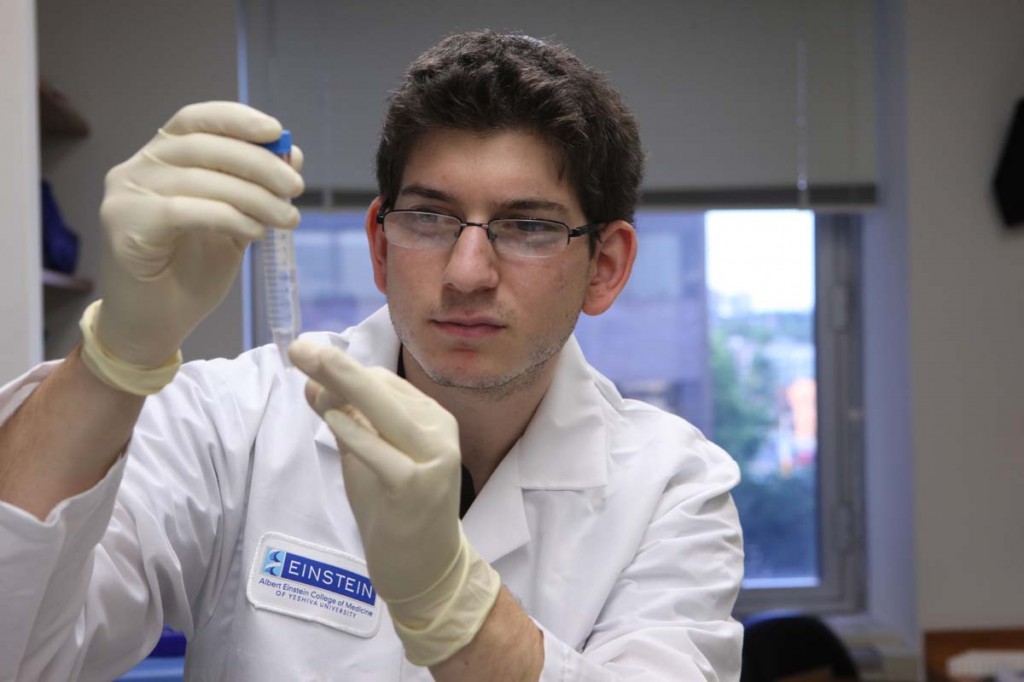 Undergraduates at Yeshiva University can get a head start on their medical education and career by enrolling in one of our multiple combined and joint degree programs. Our pre-health academic advisers are also available to guide students every step of the way, from the moment they enter YU to preparing for their MCAT or DAT, and beyond.
On the graduate level, YU is affiliated with one of the nation's top medical schools—the Albert Einstein College of Medicine. Einstein is also one of the most selective medical schools in the country, with some 7,400 applications for 183 first-year places.
Yeshiva College and Stern College for Women
YU presents undergraduates with a rich array of combined and joint degree programs in the health professions—such as nursing, optometry, physical therapy, podiatry and more—offered in conjunction with the University's graduate or professional schools or other prestigious academic institutions.
Stern students can enroll in the speech pathology and audiology program that prepares them for advanced graduate programs, with an ultimate goal of qualifying for national certification and appropriate licenses.
Pre-health combined and joint degree programs:
Pre-Health Advising
The Pre-Health Advising Office on the Wilf Campus in upper Manhattan (men students) and the Pre-Health Advisement Center on the Beren Campus in midtown Manhattan (women students) counsel undergraduate students interested in various health care professions such as:
Dentistry
Genetic counseling
Medicine
Nursing
Occupational therapy
Optometry
Osteopathy
Pharmacy
Physical therapy
Physician assistant
Podiatry
Beyond the Classroom
While the pre-health staff works closely with students to ensure that they are taking the appropriate courses and prerequisites, it emphasizes that making oneself competitive for health professions schools involves more than good grades (important as they may be). Research, clinical exposure, community services and leadership activities are also needed to develop a noteworthy résumé.
To this end, YU students are fortunate to be able to work with faculty members on campus who are conducting research. Students may also apply for the Bar-Ilan Summer Research Program in Israel. In addition, they have an opportunity to do clinical and bench research with YU's Albert Einstein College of Medicine faculty through the summer Roth program and the Montefiore Summer Research Program in Public Health. Other opportunities exist at area hospitals, nursing homes and community agencies.
Community service opportunities abound as well: Project START, College EDge, Heights Initiatives, the Medical Ethics Society and many other campus organizations give students myriad opportunities to engage with like-minded students on projects that positively impact on the YU and larger community.
High National Acceptance Rates
YU students are very successful in competing on a national scale. Our students have received offers to interview from Harvard, Columbia, Cornell, University of Pennsylvania, Yale and Johns Hopkins. Our acceptance rate to medical school has been well above the national average every year—with an average 89% acceptance rate every year for the past 10 years.
Students have also been successful in obtaining positions as research assistants and as teaching assistants in science courses. Many take a year off to conduct research or continue their rabbinical training before entering health professions schools.
Albert Einstein College of Medicine
Located on the Jack and Pearl Resnick Campus in the Bronx, New York, Albert Einstein College of Medicine offers one of the nation's largest programs for medical education, granting the following degrees:
Einstein runs one of the largest postgraduate clinical training programs in the United States, and its alumni are among the nation's foremost clinicians, biomedical scientists and medical educators.
Collaborations Throughout YU
YU's undergraduate students have the opportunity to conduct research with Einstein faculty, with many participating in the Summer Undergraduate Research Program (SURP). And through the Anne Scheiber Scholarship Fund, eligible students at YU's Stern College for Women who are entering Einstein can receive major tuition support.