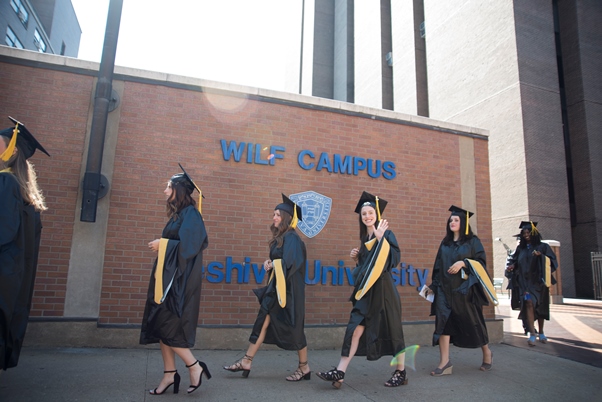 Social Work Job Board
For Employers: If you're interested in posting a job, please forward the job description to wurzweiler@yu.edu
     ***As a service to students and alumni please find below job postings in the social work field for the last 60 days. Wurzweiler School of Social Work and Yeshiva University are not responsible or liable for accuracy or currency of information posted nor claim any formal affiliation with any person and/or entity listed or affiliated with person/entity listed. These postings are for the convenience of visitors to this webpage only. 
Were you hired for a job you found on Wurzweiler's Job Board? If so, please let us know by contacting socialwork@yu.edu
Congratulations to Marjorie Muravina who was hired as a MST-SA Therapist at Montefiore Medical Center/University Behavioral Associates after finding the position on our Job Board. "The site was a key resource for me in what is a particularly competitive job market, especially for those looking for a salaried position in the mental health field that offers clinical hours and supervision. I hope you'll continue to maintain the job board, and I'll absolutely encourage my fellow WSSW alumni to utilize it!" Marjorie Muravina 
Congratulations to Eric Fefferman who was offered a job as a Life Coach with Kulanu. Eric found the position on the Wurzweiler job board. Good luck, Eric!
Congratulations to Faith Herring, MSW who was offered a position as a Behavioral Scientist Instructor at Bronx-Lebanon Hospital Center. Faith applied after seeing the job posted on this Job Board. Good luck in your position, Faith!
CURRENT JOBS
DATE POSTED: February 14, 2018
JOB TITLE: Full-time Social Worker, PROJECT EZRAH NEEDS, INC.
POSITION SUMMARY:
MSW Preferred
Intake Coordinator
4-5 Years Minimum Experience
Sensitivity to PE Clientele
Oversight Of All Casework Issues
Liaison To Mental Health Providers
Financial Acumen(Money and Budget Management)
Ability to Review and Prepare Selected Financial Reports
Monitor ,Analyze and Review all Client Monthly Bills
Team Player
APPLICATION INSTRUCTIONS: Send resume to robert@ezrah.org
DATE POSTED: February 14, 2018
JOB TITLE: Child Welfare Jobs, CHILDREN'S Corps
POSITION SUMMARY
Children's Corps is a program of Fostering Change for Children that recruits, trains and supports individuals of all backgrounds who are passionate about working with children and families involved in the child welfare system. Its mission is to improve the lives of vulnerable children by building a highly-skilled and dedicated workforce that has the potential to become leaders in the field. The program offers an employment opportunity for individuals who want to work on the frontlines in New York City's child welfare agencies, gain valuable experience, and make a difference in the lives of families.
APPLICATION INSTRUCTIONS: Please click here for more information 
DATE POSTED: February 14, 2018
JOB TITLE: Per Diem workers, JCCA-Repair the world child by child 
POSITION SUMMARY:
Please click here for more information.
APPLICATION INSTRUCTIONS: To become a Waiver Service Provider, please send a resume: watsonj@jccany.org or jonesa@jccany.org