Faculty Directory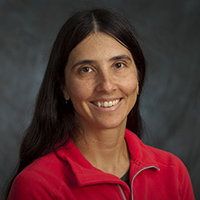 Lea
F.
Santos
Professor of Physics, Chair
PhD, University of Sao Paulo, 2000
MS, University of Sao Paulo, 1994
BS, University of Sao Paulo, 1991
Dr. Lea F. Santos is a Professor of Physics with a Ph.D. in theoretical physics from the University of São Paulo. Postdoctoral experiences included work in random matrix theory at Yale University, metal-insulator transition at Michigan State University, and quantum control at Dartmouth College. She has been a member-at-large of the APS Forum of Physics and Society, has been in the APS LeRoy Apker Award committee and in the APS Metropolis Award Selection Committee.  Her research has been funded by the National Science Foundation and the Research Corporation.
 
Research interests include many-body quantum systems, non-equilibrium quantum dynamics, thermalization, quantum transport, quantum chaos, spin systems, many-body localization, quantum phase transition, quantum control, dynamical decoupling methods, decoherence, quantum-classical transition.
Accolades include the NSF CAREER Award, the Cottrell College Science Award, Outstanding Junior Faculty Member Award, Cottrell Scholar, KITP Scholar, Outstanding Referee for the Journals of the American Physical Society, member of the U.S. delegation to the Third IUPAP International Conference on Women in Physics, and fellowships from the Brazilian and New Zealand governments..
Beren campus - Stanton Hall (245 Lexington)
Room#504