Faculty Directory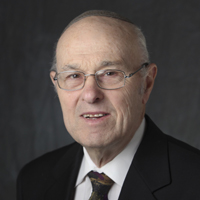 J.
Mitchell
Orlian
Professor of Bible and Hebrew
Other, Yeshiva University,
An ordained Orthodox rabbi, Dr. Mitchell Orlian is a veteran teacher who has taught many Bible and Hebrew language courses. He had the distinction of being selected as "Senior Professor" by his students on numerous occasions. He is an authority on military history in the biblical period and its applications to contemporary times. He is also an authority on the development of the Hebrew language, biblical geography, Jewish bibliography, and Tosafistic literature. Dr. Orlian's new book is SEFER HAGAN, a Tosafistic commentary to the Pentateuch, published by Mosad Harav Kook. The book is based on a unique manuscript in the Vienna National Library, plus 17 other manuscripts around the world. His extensive introduction includes a comprehensive analysis of the biblical exegesis of the Tosafists. He is also the author of LEKET MEKOROT: PARSHANUT HAMIKRA B'TSARFAT AND B'SFARAD, and MIKRA'AH LASHANA HARISHONA (a selected anthology of Hebrew literature used as a text by various Yeshiva University departments). For many years, he served as the coordinator of the National Bible Contest, and he has also been a judge for the International Bible Contest in Israel. He has lectured throughout the United States and Israel and presented at the National Association of Professors of Hebrew.
Ba'alei HaTosfof al HaTorah and Parshanut Yehudit al HaMikra
Senior professor award twice
Sefer HaGan: Text and notes
Wilf campus - Furst Hall
Room#515