Faculty Directory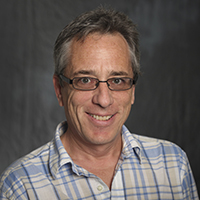 Evan
Mintzer
Adjunct Assistant Professor of Chemistry
BA, City University of New York,
MPhil, City University of New York,
PhD, City University of New York,
Organic chemistry, biochemistry, biophysical chemistry
Interaction of two oxysterols, 7-ketocholesterol and 25-hydroxycholesterol, with phosphatidylcholine and sphingomyelin in model membranes. Chem. Phys. Lipids, 2010 May; 163(6): 586-593 Differential effects of conjugated linoleic acid isomers on the biophysical and biochemical properties of model membranes. Biochim Biophys Acta. 2010 Mar;1798(3):506-514. Subbaiah PV, Sircar D, Aizezi B, Mintzer E. First synthesis of free cholesterol-BODIPY conjugates. J Org Chem. 2006 Feb 17;71(4):1718-1721. Li Z, Mintzer E, Bittman R. Lysophosphatidic acid and lipopolysaccharide bind to the PIP2-binding domain of gelsolin. Biochim Biophys Acta. 2006 Jan;1758(1):85-89 Mintzer E, Sargsyan H, Bittman R. The critical micelle concentrations of lysophosphatidic acid and sphingosylphosphorylcholine. Chem Phys Lipids. 2004 Jul;130(2):197-201. Li Z, Mintzer E, Bittman R. Behavior of a photoactivatable analog of cholesterol, 6-photocholesterol, in model membranes. FEBS Lett. 2002 Jan 16;510(3):181-4. Mintzer EA, Waarts BL, Wilschut J, Bittman R.
Beren campus - Stanton Hall (245 Lexington)
Room#552