Faculty Directory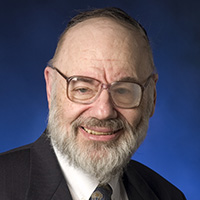 Zevulun
Charlop
Rabbi Zevulun Charlop, dean emeritus of RIETS, is an authority on Torah and Talmud and a lecturer in American history. He has authored numerous scholarly essays, including "The Making of Orthodox Rabbis" in Encyclopedia Judaica and "G-d in History and Halakha from the Perspective of American History."
In May 2008, Rabbi Charlop received Yeshiva's Presidential Medallion in recognition of his stewardship of RIETS. Under his distinguished leadership of more than 35 years, the seminary experienced enormous growth, graduating thousands of rabbis, educators and Jewish scholars.
Rabbi Charlop serves as one of RIETS' masmichim [those who administer ordination exams] and maintains his special relationship with the Kollelei Elyon. He also serves as special advisor on Yeshiva affairs to Yeshiva University President Richard M. Joel.
Rabbi Charlop is editor of three novellae on Torah and Talmud by his late father, the noted Rabbi Jechiel Michael Charlop.