Faculty Directory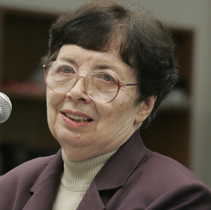 Lea
Blau
Professor Emerita of Chemistry and Biochemistry
PhD, Weizmann Institute of Science, 1967
Other, Israel Institute of Technology, 1963
BSC, Israel Institute of Technology, 1960
Professor Lea Blau did research in Israel, followed by a postdoctoral fellowship at Rutgers University. Before joining Yeshiva University, she was an instructor at Queens College of CUNY.
Professor Blau's teaching interests include organic chemistry, biochemistry, and medicinal chemistry. Her research interest is in the area of physical biochemistry of lipids.
Professor received the 2010 Dean Karen Bacon Award for an Outstanding Senior Faculty Member.
Beren campus - Stanton Hall (245 Lexington)
Room#548