Faculty Directory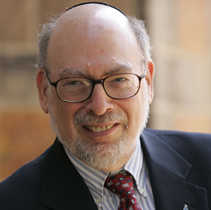 Moshe
J.
Bernstein
David A. and Fannie M. Denenberg Chair in Biblical Studies; Professor of Bible and Jewish History
Other, Yeshiva University,
Rabbinic Ordination, Rabbi Isaac Elchanan Theological Seminary,
Professor Moshe Bernstein taught at Stern College for Women for 20 years and has taught at the Skirball Department of Hebrew and Judaic Studies of New York University, where he is a distinguished adjunct scholar, teaching Aramaic and Dead Sea Scrolls.
Professor Bernstein's research focuses on Jewish biblical interpretation in antiquity, particularly in the Dead Sea Scrolls and the Aramaic targumim (translations of the Hebrew Bible into Aramaic).
Professor Bernstein is a member of the international editorial team responsible for editing and publishing the Dead Sea Scrolls and coedited three fragmentary Scrolls in the official publication series. He also coedited Reading 4QMMT: New Perspectives on Qumran Law and History and Legal Texts and Legal Issues: Second Meeting of the IOQS (Cambridge 1995).
Wilf campus - Furst Hall
Room#229