2013
Monthly Shiur and Sushi
A Fascinating Halachic View on Blood and Marrow Donations
with Rabbi David Shabtai, MD
Monday, December 30th, 2013

Shiur and Sushi Monthly Series
A Brother Like No Other: Yosef's Story
with Rabbi Ari Zahtz
Mashgiach Ruchani at YU and Assistant Rabbi, Congregation Bnei Yeshurun, Teaneck, NJ
Wednesday, November 20, 2013
For singles ages 25-35
Washington Heights, NY 

Is This Normal?
Must see short clips
Monday, November 11, 2013
Furst Hall 501
For Men Only  

Talking Tachlis for Women 
An evening about dating and building relationships
November 4, 2013
Washington Heights, NY
Doors Open at 7:30 - Cost: $6


Autumn Shabbaton in TEANECK
November 1-2, 2013
Congregation Bnai Yeshurun

A Night of Inspiration with Charlie Harary
with EMUNAH of America Young Leadership
September 9, 2013, 2013
Lincoln Square Synagogue, NYC

Dine 'N Meet in Woodmere
June 8, 2013
Exclusive Shabbos Meal Connecting Compatible Singles
Ages 23-35 

A Night of Laughs
June 6, 2013
Comedy Night with Joel Chasnoff and Eli Lebowicz
in conjunction with the Orthodox Union Singles Connection  


Shiur and Sushi - Summer Series
June 5, 2013
Temptation or Healthy Desire: Rethinking the Little Devil Inside all of Us
with Rabbi Eli Mischel, Assistant Director of Community Initiatives at Yeshiva University's Center for the Jewish Future 


YUConnects goes to Washington!
May 8, 2013
The NORPAC Mission to Washington




Shiur and Sushi - Springtime Series
April 17, 2013
Bashert: The Secret To Meaningful Relationships
With Rabbi Ely Bacon, Mashgiach Ruchani, Yeshiva University
Washington Heights, NY
Open to Men and Women 25-35 

Dine n' Meet
April 20, 2013
Washington Heights, NY
Shabbat Meal Connecting Compatible Singles
Ages 23-33 


Helping a Couple Connect or Disconnect
April 22, 2013
Yeshiva University Uptown Wilf Campus
Presentation with Rachel Pill, LSCW
FOR CONNECTORS ONLY

Putting Calm and Clarity into Dating
April 24, 2013
Panel with Dvora Levy, Rabbi Shmuel Maybruch and Dr. Efrat Sobolofsky
For Women
At Stern College
 
Meet the Matchmaker Night 
February 12, 2013
Congregation Shaarey Tefilla
Lawrence, NY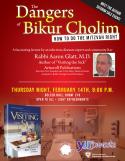 The Dangers of Bikur Cholim
February 18, 2013
Seforim Sale Lecture
Yeshiva University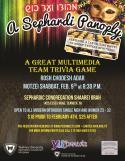 A Sephardic Panapoly 
March 2, 2013
Multimedia Team Trivia Event
Sephardic Congregation Shaarei Orah
Teaneck, NJ
For Modern Orthodox Singles ages 23-32


Leil Iyun on Dating
For men
With Rabbi Josh Blass, Dr. David Pelcovitz and Dr. Efrat Sobolofsky
January 28, 2013
Glueck, Room 308
2012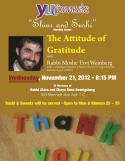 The Attitude of Gratitude 
WEDNESDAY November 21, 2012 
Washington Heights, NY
Shiur for Singles with Rabbi Moshe Tzvi Weinberg, Rebbe and Mashgiach Ruchani in the Stone Beit Midrash Program, Yeshiva University
Sushi and Sweets were served
Men and Women 25 - 35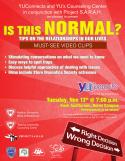 Is This Normal? Tips on Relationships in Our Lives  
November 13, 2012
Koch Auditorium, Stern College
Must-See Video Clips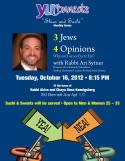 Shiur and Sushi
Rabbi Ari Sytner
"3 Jews, 4 Opinions"
October 16, 2012 
Washington Heights, NY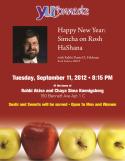 Shiur and Sushi
Rabbi Daniel Feldman
"Happy New Year: Thoughts on Rosh Hashana"
September 11, 2012 
Washington Heights, NY
Monday, July 30, 2012 
Englewood, NJ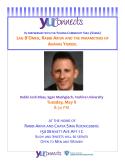 LAG B'OMER, RABBI AKIVA AND THE PARAMETERS OF AHAVAS YISROEL
A shiur for men and women with Rabbi Josh Blass
Tuesday, May 8, 2012
Washington Heights, NY
"How to Succeed in Business...without any lying" by Jason (Dov) Greenblatt
 March 20, 2012
Trump Tower, NY
 
Purim Thoughts & Insights by Rabbi Zvi Sobolofsky
February 28, 2011
Washington Heights, NY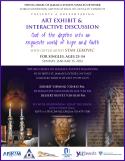 Art Exhibition in Jamaica Estates
January 15, 2012

NCSY & YUConnects 
Chinese Auction Viewing & Evening of Comedy
January 7, 2012

Ohr HaTorah Singles Shabbaton with YUConnects
December 16-17, 2011
To tell or not to Tell 
November 29, 2011


Dating Ourselves: Issues in Using the Secular Calendar 
Singles shiur with Rabbi Shmuel Maybruch
 Washington Heights, NY
November 22, 2011

YUConnects Shabbaton in Teaneck
    November 18-19, 2011
Dating Workshops for Women
Stern College, NY
November, 2011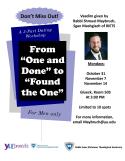 Dating Workshops for Men
Yeshiva University, NY
November, 2011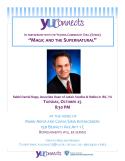 Shiur with Rabbi Dani Rapp 
Washington Heights, NY
October 25, 2011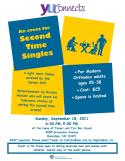 An event for Second Time Singles
For Modern Orthodox adults, ages 25-38
September 18, 2011
Yoni Shenkman and YUConnects
Young Professional Lecture & Mixer
by Tobias Levkovich
July 28, 2011
Non-Judgmental Listening While Dating

by Rachel Berko, MSW

June 29, 2011

 

 

 

 

 

 

Yoni Shenkman and YUConnects

Single Young Professionals Shiur & Mixer

by Rabbi Zvi SobolofskyApril 4, 2011
at Morgan Stanley/SmithBarney

 
Developing Healthy Relationships in the Digitial Age
March 22, 2011- Beren Campus
March 29, 2011- Wilf Campus
New Rochelle Singles Event for Young Professionals
March 17, 2011
Shenk Shul Shabbaton
February 25, 2011
Stamford Shabbaton
February, 11-12, 2011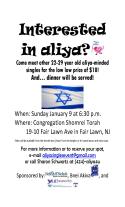 Aliya Minded Singles
January 9, 2011
Fair Lawn, NJ
2010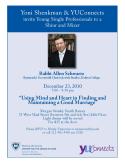 Yoni Shenkman & YUConnects
Single Young Professionals Shiur & Mixer
by Rabbi Allen SchwartzDecember 23, 2010
at Morgan Stanley/SmithBarney
Staten Island Shabbaton
December 10-1, 2010
Staten Island, NY 
Einstein and YUConnects
Pre-Chanukah Event
Sunday, November 21, 2010
Teaneck Shabbaton
October 29-30
Teaneck, NJ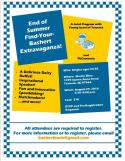 Bashert Extravaganza
Teaneck, NJ
August 29, 5:30PM-8PM
Ages 23-30
Creating Connections
For more information, click here

Kollel & Midreshet Yom Rishon
Dating & Relationship Building
May 9, 9:30-11:30 AM
Rabbi Jacob J. Schacter
9:30 - 10:30 AM
Torah Values and the World of Dating
Rabbi Zvi Sobolofsky
10:30 - 11:30 AM
Loving G-d: A Model Relationship
Genetic Screening Event
March 2, 2010


YUConnects Meet and Greet
Beren Campus
CJF Storefront
January 27, 2010
SOY Sefarim Sale at YU
January 24 - February 15