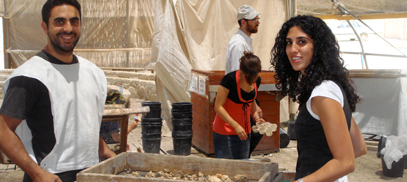 About the July in Jerusalem Program
Learn Torah and explore Israel in an intensive introductory program with considerable time devoted to classic Jewish learning, including lectures, workshops, touring, and traditional beit midrash and chavruta study.
July in Jerusalem also gives you the chance to meet fellow students from a variety of backgrounds and with diverse academic and professional interests, all committed to Jewish observance and practice.
For further information and to apply, please contact us at:
Mrs. Nava Orlian
July in Jerusalem—Summer Program Coordinator
Yeshiva University
515 West 185th Street, Suite 614
New York, NY 10033
Phone: +1 212 568 7052
Fax: +1 212 568 7380
navaorlian@gmail.com
At a Glance
Program Dates
June 28- August 13
Program Cost
Total cost of the program is $999, which includes tuition, room & board and airfare
Scholarships and financial aid are available.
Space is limited. For additional information and an application, please contact Chad Hopkovitz at mechinah@yu.edu. Applicants must successfully complete the application and interview process to be considered for this program.