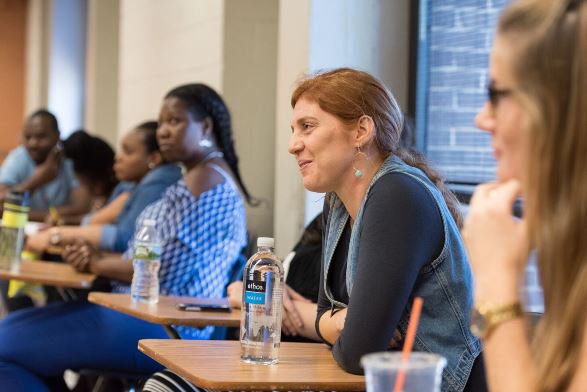 MSW Program: Applying
In order to apply to our MSW degree program, please complete and submit the following:
Three Personal Statements as specified in online application.
Three letters of reference - Recomendation  Letter Guidlelines
Transcripts
Please submit sealed copies of official transcript(s) of all previous colleges you have attended. Transcripts should be mailed to Yeshiva University, Wurzweiler Office of Admissions, 2495 Amsterdam Avenue, New York, NY 10033 or email to socialwork@yu.edu. .
Advanced Standing Program
Submit final field work evaluation from your BSW program. In addition, one of your three letters of reference should be from the director of your BSW program or your faculty adviser addressing your readiness for advanced standing.
Transfer Student

Complete entire application process and provide the additional information
One reference letter from a current or former MSW program faculty adviser or field supervisor
Provide their final field work evaluation.
Transfer students from an accredited MSW program can receive a maximum of 12 credits at B or above

International Student

All transcripts and letters of recommendation must be translated by an accredited service.
Proof of financial support must be provided upon acceptance and intent to enroll. 
Visas and all other relevant documentation are the responsibility of the admitted party with assistance of the Office of International Students and Scholars. 

Application Fee
       The $50 application fee may be submitted online  by credit card. Please note that this fee is nonrefundable.
IMPORTANT INFORMATION FOR ISRAELI APPLICANTS TO THE SUMMER PROGRAM  (PDF)

PhD Program: Admissions Requirements
Please note that to be considered for the MSW/PhD program, students must apply also for the PhD program after completing the first semester of the MSW program.
PhD Program: Application Deadlines
Applicants are advised to begin the application process in the fall semester prior to the year in which they wish to enroll. For the academic year, admission is on a rolling basis through April 29. Any applications received after the April 29 date will be considered for the following academic year.
The application process and requirements for the PhD program are extensive, but don't be intimidated. This is a major step in your life, and we want to make sure you're fully prepared. Please review the instructions below and if you have any questions, contact the Doctoral Office at 212.960.0813 or wsswphd@yu.edu.
For more information about our program or to schedule an admissions interview, please contact the Doctoral Office at 212.960.0813 or wsswphd@yu.edu.
Application Tips
Here are a few easy steps to remember when applying to Wurzweiler:
Apply as early as possible

Review the criteria for admission prior to submitting the application

Provide an academic recommendation if possible (i.e., from someone who managed a setting or supervised the applicant in a human-service-related paid, volunteer, internship or research services environment)

Fully complete the work experience section

Answer all three (3) questions on the Personal Statement

Thoroughly proofread the Personal Statement, prior to submission

For financial assistance, complete and submit the FAFSA at the earliest date possible
You can contact the Wurzweiler Office of Admissions at 212.960.0810 or socialwork@yu.edu.
Visiting Wurzweiler
If you are a prospective student who would like to visit our campus, please call 212.960.0810 or
email us
.
Equal Opportunity
Yeshiva University is committed to a policy of equal opportunity and nondiscrimination in admission and other facets of its educational programs and activities. The University encourages applications from qualified students of diverse backgrounds without regard to sex, religion, age, race, sexual preference, handicap, color, or national origin, within the meaning of applicable law.