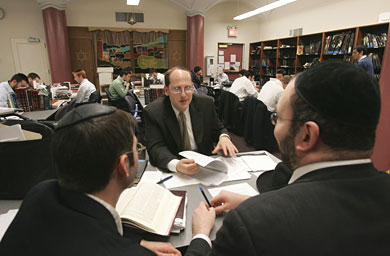 Faculty & Staff
The Mazer/Yeshiva Program faculty includes many internationally recognized scholars, graduates of the foremost yeshivot in the world. The program also features a large and growing cadre of counselors and mentors, available to help talmidim as needed with studies, spiritual matters and other concerns.
Administration
Rabbi Menachem Penner
Max and Marion Grill Dean
Rabbi Isaac Elchanan Theological Seminary and Undergraduate Jewish Studies
Rabbi Yosef Kalinsky
Associate Dean
Undergraduate Torah Studies - Yeshiva University
Rabbi Zevulun Charlop
Dean Emeritus
Rabbi Isaac Echanan Theological Seminary
Roshei Yeshiva
Rabbi Elchanan A. Adler
Eva, Morris, and Jack K. Rubin Memorial Chair in Rabbinics                         
Rabbi Eliyahu Ben-Haim
Maxwell R. Maybaum Memorial Chair in Talmud and Sephardic Codes (Halakhah)

Rabbi Yitzchok M. Cohen

Rabbi Daniel Z. Feldman

Rabbi Meir Goldwicht
  Joel and Maria Finkle Visiting Israeli Rosh Yeshiva

Rabbi David M. Hirsch
Eva, Morris, and Jack K. Rubin Memorial Chair in Rabbinics

Rabbi David Horwitz
Rabbi Sidney Shoham Chair in Rabbinic and Community Leadership

Rabbi Aharon Kahn
Joel Jablonski Chair in Talmud and Codes

Rabbi Eliakim Koenigsberg

Rabbi Yaakov Neuburger
I. Meier and Henrietta Segals Chair in Talmud

Rabbi Harold J. Reichman
Bronka Weintraub Chair in Talmud

Rabbi Michael S. Rosensweig
Nathan and Perel Schupf Chair in Talmud

Rabbi Hershel Schachter
Nathan and Vivian Fink Distinguished Professorial Chair in Talmud

Rabbi Eli Baruch Shulman
Rabbi Henry H. Guterman chair in Talmud 
Rabbi Baruch Simon
Col. Jehiel R. Elyacher Chair in Talmud

Rabbi Ezra Schwartz
Bochein

Rabbi Zvi Sobolofsky
  Rabbi Daniel Stein

Rabbi Moshe D. Tendler
Rabbi Isaac and Bella Tendler Chair in Jewish Medical Ethics

Rabbi Mayer Eli Twersky
Leib Merkin Distinguished Professorial Chair in Talmud and Jewish Philosophy

Rabbi Jeremy Wieder
Gwendolyn and Joseph Straus Chair in Talmud

Rabbi Mordechai H. Willig
Rabbi Dr. Sol Roth Chair in Talmud and Contemporary Halakhah
Counselors and Mentors
Mashgichim and shoalim u'maishivim [assistant counselors and teaching mentors] are available in the various batei midrashot [study halls] for regular morning and night sedarim. They help students in their learning and assist newcomers in their transition to MYP and college life from either high school or Israel.
Rabbi Moshe Tuchman serves as beit midrash coordinator.
Shiur [lecture] assistants, senior MYP students or students from Rabbi Isaac Elchanan Theological Seminary, serve as peer advisers for their classmates.
Shiur assistants may serve as shoalim u'maishivim for their classmates, offer review sessions on a regular basis or before exams and are responsible for such administrative duties as distributing source material and taking attendance on behalf of the roshei yeshiva.