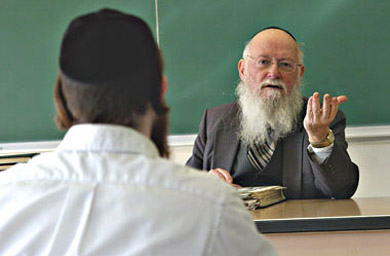 Applying
Information regarding application to all undergraduate schools may be found on the Office of Admissions Web site.
To qualify for admission to Yeshiva Program/Mazer School of Talmudic Studies, a student must:
Be in attendance at Yeshiva College or Syms School of Business, unless the student already holds a bachelor's degree
Have knowledge of Hebrew (modern, medieval, and biblical)
Pass an entrance examination in the reading and comprehension of selected Talmudic passages and commentaries as well as general background in Talmud
Applicants are placed in shiurim [lectures] based on previous training and ability. Advanced standing is given to those who have pursued Talmudic studies in college-level programs at yeshivot in the United States or Israel.
If you have questions regarding the Mazer/Yeshiva Program in particular, please contact us.