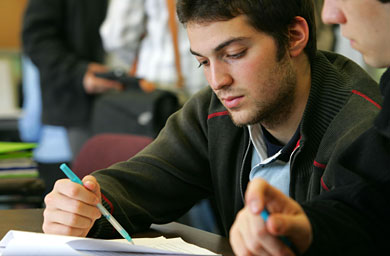 Curriculum
To earn an Associate of Arts degree in Judaic studies from the JSS Program along with a bachelor's degree from Yeshiva College or Syms School of Business, a student must fulfill a six-semester residence requirement in the JSS Program.
The program's curriculum emphasizes fundamental proficiency in classical Jewish texts, courses in Hebrew language, Jewish history, Talmud, Hasidism, Ashkenazic and Sephardic laws and customs, mysticism, Jewish ethical movements and Jewish philosophy and thought.
We encourage students to ask questions and develop their own paths to Jewish knowledge and observance.
Students must register for the Weekday Service course and at least 18 credit hours within the program each semester. The cumulative index of these courses will transfer as three HES credits in the student's college record. If a student registers for 21 credit hours in a semester, the courses will transfer as four HES credits.
Bible—six courses 
Hebrew language—four courses: 1101, 1102, 1203, 1204; those who demonstrate to
the director that they have advanced Hebrew skills are exempted from courses they do not
need and only require successful completion of 1203 and 1204.  Students who demonstrate
Hebrew proficiency are exempted from this requirement.
Jewish history—two courses from 1200, 1300, 1400
Judaic studies —four courses (Jewish philosophy courses also fulfill this requirement)
or six courses if one also has two courses of Talmud 
Talmud—four courses or two courses with six Judaic studies or Jewish philosophy
courses
Upon successful completion of coursework, a JSS student is able to:
Read classical Hebrew texts on his own
Decipher any page of Talmud
Read and analyze Rashi's commentary to the Bible
Display mastery of a broad range of traditional observances and customs
Please see catalog for more information.
Registration Forms
Please click here for the Fall 2016 JSS Registration Form