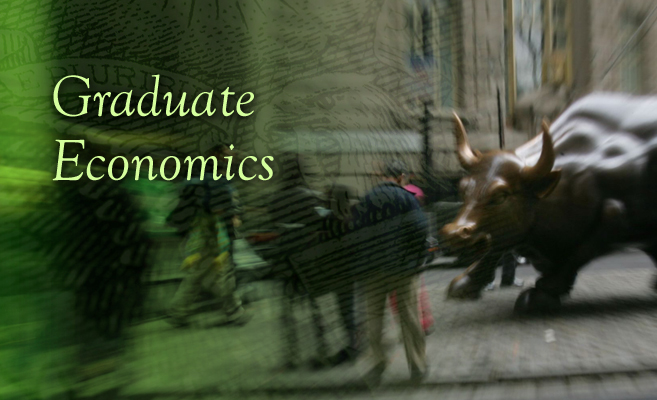 The Master of Science in Quantitative Economics (MQE) program enters its fifth academic year. This competitive, rigorous and comprehensive program will train students for analytical or research-based careers in economics and finance. Follow the links on the right for more information about this program.
An Active Faculty Both In and Out of the Classroom
The MQE is offered by the Yeshiva University Department of Economics. The department comprises only research-active faculty who works on various issues spanning macro and micro economics, at both the theoretical and empirical levels. Our faculty publishes work in prestigious international scientific journals, such as American Economic Review, Econometrica, Quarterly Journal of Economics, Review of Financial Studies, Journal of Economic Theory and Journal of Mathematical Economics, participates in study groups or co-organizes conferences sponsored by the NBER, the Cowles Foundation and other institutions of international renown.
Why "Quantitative" Economics?
Economics taught at this MSc is 'quantitative' for the following reasons: 1) it is model-based, rigorous; 2) it leads to quantitative analyses via simulation, computation, and estimation of models; 3) it emphasizes a broader scope than many 'applied economics' programs; it is not focused on institutional, geographic or historical details, but on understanding the mechanisms behind economic and social institutions.
A Global Outlook
The MQE has partnered with the prestigious Paris 1 University Pantheon-Sorbonne to give selected MQE students the opportunity to spend one semester in Paris, France, taking advanced courses in quantitative economics. Founded in 1252, Paris 1 University is an eight-hundred-year-old institution, home to over 130 faculty members in Economics, and running a variety of MSc programs. MQE students will in particular have access to the MSc in Models and Methods of Quantitative Economics 'Erasmus Mundus' (QEM). This program is run in partnership with other European universities, including Universitat Autònoma de Barcelona (Spain), IMW - Institute of Mathematical Economics of Universität Bielefeld (Germany) and Università Ca' Foscari Venezia (Italy), and attracts each year about 50 students with a kaleidoscopic range of nationalities.
Contact
For more information about the MQE:
please visit our pages using the navigation menu at the right side of this page,
or contact the program director, Dr. Alessandro Citanna, via email at mqeinfo@yu.edu.
Follow us on Facebook at https://www.facebook.com/QuantitativeEconomics
Follow us on Twitter at #MQE_YU or go to https://twitter.com/MQE_YU
The MQE is open to all qualified students without regard to race, religion, creed, color, national origin, sex, age, disability, veteran or disabled veteran status, marital status, sexual orientation, or citizenship status as those terms are used in the law.