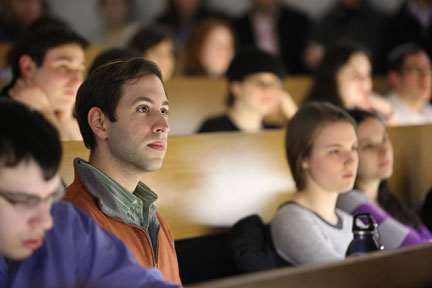 University Initiatives
As part of its long-range planning, Yeshiva University continues to embark on a variety of initiatives that will further enhance and build on our significant achievements. Maintaining the integrity of our mission of Torah Umadda and sustaining the advances made in recent years remain our paramount objectives.
While there are currently many exciting initiatives taking place at the University, great colleges and universities cannot rest on its past laurels but must continue to evolve and adapt to changing circumstances to ensure a viable future. At Yeshiva University, our priorities are, among others, to continue to provide an outstanding education for our students, advance excellence in all of our schools and create a safe and attractive environment for our students, faculty and staff.
The University's plans are also guided by President Richard M. Joel's four pillars, which illustrate the uniqueness of the institution. As President Joel articulated at his investiture on September 21, 2003, ''Yeshiva University must be a place that makes possible achievement of nobility, where young people can aspire to greatness and learn to contribute to their own development, to the Jewish community and to society at large.''
We invite you to check this page frequently to learn more about our innovative undertakings as we firmly plant the seeds for the University's continued growth and progress in the 21st century and beyond.