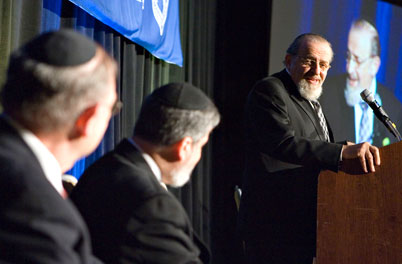 Yadin Yadin Kollel
As part of the Lamm Heritage, Yeshiva University will endow and enhance the Norman Lamm Yadin Yadin Kollel.
Housed in the Rabbi Isaac Elchanan Theological Seminary (RIETS), this intensive two- to five-year program grants yadin yadin, an advanced level of semicha [rabbinic ordination], to outstanding scholars who have already received yoreh yoreh semicha, preparing them to adjudicate in matters of Jewish law.
The Beth Din of America, a nonprofit rabbinical court that serves the Jewish community, and Yeshiva University plan to create a joint program between the Beth Din and the Yadin Yadin Kollel, with the goal of training a cadre of serious judges who will serve the Modern Orthodox community in America.
Rabbi Yona Reiss, former director of the Beth Din of America, has been installed as Max and Marion Grill Dean of RIETS, succeeding Rabbi Zevulun Charlop, a relationship that will make this collaboration all the more meaningful and productive.
Our most dedicated students are eager to further their rabbinic education at Yeshiva University. Through the Norman Lamm Yadin Yadin Kollel, we will produce a stronger and larger cadre of capable leaders to deal with the difficult issues and situations facing Jews and Judaism in the modern world.